Media & More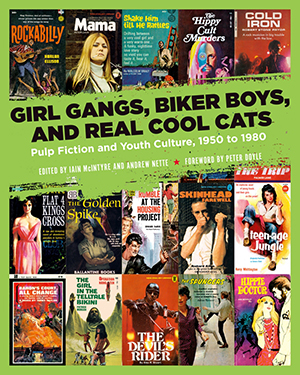 NEW Ann was interviewed for a newly released book Girl Gangs, Biker Boys, and Real Cool Cats, about mass market pulp fiction.
Audio & Video
(You'll need the free Flash Player and RealPlayer to play some of these files.)
NEW Below: Clip from a forthcoming documentary, "Legacies of Lesbian Literature," featuring an interview with Ann.
"Lesbian Pulp, Career Girls, & Bruce Vilanch" radio interview with Ann, novelist Monica Nolan, and actor Bruce Vilanch on the show Out In the Bay, May 2014
Interview with Ann Bannon by Liz McMullen, at the Golden Crown Literary Society's annual conference, July 2014, in Portland, Oregon. Video produced and edited by Liz McMullen. © Copyright Golden Crown Literary Society (GCLS); do not share without express written permission.
Interview with Ann Bannon by Iain McIntyre on 3CR Radio, Melbourne, Australia, December 24, 2013:

Interview with Ann Bannon by Warren Etheredge, on The High Bar, KBTC Seattle. February 13, 2012.
The High Bar w/ Warren Etheredge & Ann Bannon (Ep. 302) from The High Bar on Vimeo.
Interview with Ann Bannon by Terry Gross, on Fresh Air, National Public Radio. Original broadcast, December 8, 1999; rebroadcast August 28, 2003. Listen on www.npr.org. (This interview has also been published as "You Will Not Find the Word 'Lesbian'" in All I Did Was Ask: Conversations with Writers, Actors, Musicians, and Artists by Terry Gross. Hyperion Press, New York, NY; August 2004.)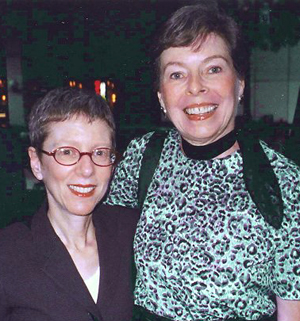 Interview with Ann Bannon by David Garland and readings by Ann Bannon, on Spinning On Air, WNYC Radio, Sunday, November 26, 2006. Listen on www.wnyc.org or here:

Podcast interview with Ann Bannon by Dagni Rose for The Wild Orchid, Gay Pride Month, June 2010. Listen on The WildO Network site or listen in iTunes.
Interview with Ann Bannon by Anna Maria Tremonti, on The Current, Canadian Broadcast Company, December 14, 2004. Listen on www.cbc.org or here: "Lesbian Pulp"
Commentary by theater critic Alisa Solomon, on WNYC Radio, , March 25, 2008. Listen on www.wnyc.org or here:

Interview with Ann Bannon by Dr. Douglas Everett, on Insight, Sacramento NPR affiliate KXJZ, April 2005. Listen on www.capradio.org
Preview video for the book "The L Life: Extraordinary Lesbians Making a Difference," by Erin McHugh, which includes photos and an interview with Ann Bannon:
A trailer for the West Coast Premiere of "The Beebo Brinker Chronicles" at Brava Theater in San Francisco in 2010, with Erin Maxwell as Beebo and Summer Serafin as Laura (video by Lucky Dragon Productions):
Scene from "Beebo Brinker Chronicles" with Laura (Marin Ireland) and Marcie (Carolyn Baeumler), in the Off-Off Broadway Hourglass Group 2007 production of the play:
"The Lights are HOT Off-Broadway" interview on ABC's Good Morning America with "Beebo Brinker Chronicles" producer Lily Tomlin, actress Jenn Colella, and director Leigh Silverman, March 14, 2008.
Passing on the Pen videos with Ann Bannon and Victor J. Banis, pioneers of lesbian and gay pulp fiction, at the GLBT Historical Society, March 25, 2008 (this is Part 3 of a multi-part video series; the whole series is available on the GLBT Historical Society YouTube channel:
here! with Josh & Sara interview on here! Networks, September 10, 2008 (clip 1 of 2):
In the Life — Documentary Stories from the Gay Experience: "Beebo Brinker" segment in "Voices of Sisterhood," March 2008; "Odd Girl Out" segment in "The Power of Literacy," April 2006; "Odd Girl Out" segment in "My Fair Ladies," May 2005
Articles, Interviews & More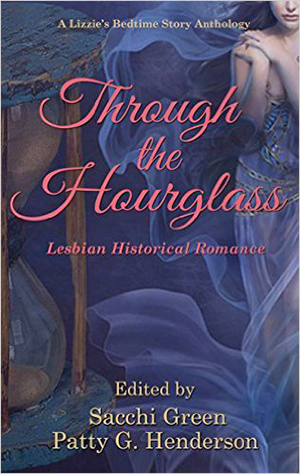 Ann is represented in a new anthology, Through the Hourglass: Lesbian Historical Romance, edited by Sacchi Green and Patty G. Henderson, collected by Liz McMullen. Published by The Liz McMullen Show Publications (Nov. 2015). E-book edition available through Amazon and Bella Books. Hard copy available in time for Christmas. The stories represent lesbian life and love across the centuries, and are arranged chronologically, starting in the 10th Century and coming up to the late 20th. A portion of the royalties goes to these charities that directly provide services for LGBT seniors: Gay & Lesbian Association for Retiring Persons, and SAGE (Services & Advocacy for GLBT Elders).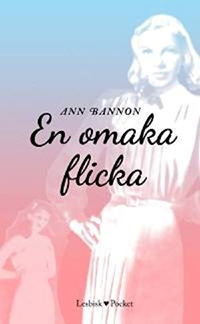 "28 People on the Lesbian-Culture Artifacts that Changed Their Lives," New York Magazine, November 18, 2015. Accompanies article on the movie "Carol," based on the book The Price of Salt by Patricia Highsmith, reviewed by Frank Rich. Ann wrote the first entry, honoring Marijane Meaker, and the second entry is a tribute to The Beebo Brinker Chronicles, written by Leslea Newman.
Odd Girl Out is newly published in Swedish as En Omaka Flicka. "Renässans för lesbisk 1950-talsromans" —svt Nyheter Kultur, May 11, 2015
"History Repeating Itself: Odd Girl Out and Under This Beautiful Dome": "I've always preferred learning my history through literature. That's why I was excited when I heard that Cleis Press reissued Ann Bannon's Odd Girl Out, a lesbian 'pulp' classic first published in 1957." —Janet Mason, The Huffington Post, December 24, 2014
Ann's books were featured on the "trailblazers, pioneers, and women of influence" day of the Women and Words "Hootenanny extravaganza," December 2014
"The Beebo Brinker Chronicles - Books 1-5" review of Ann's books: "For an entire generation, The Beebo Brinker Chronicles provided the first representation in literature that they had ever read of women loving women. Ann Bannon helped to end the isolation and ignorance that had kept thousands of gay women in emotional prisons, and paved the way for the new generation of lesbian writers that were to follow." Curve, January–February 2014
"The Beebo Brinker Chronicles: A Lesbian Pulp Pioneer's Second Act" Broward/Palm Beach New Times, September 5, 2013
"'Beebo Brinker' chronicles a search for love," Miami Herald, September 7, 2013
Interview by Sarah Cope: "Ann Bannon, Queen of Lesbian Pulp," (pdf), in Diva magazine (www.divamag.co.uk), August 2013.
Ann reviews her favorite new book, Ghost Trio, by Lillian Q. Irwin, in "The Perfect Gothic Lesbian Thriller?" Advocate.com, July 4, 2013.
"Beyond the U-Haul: How Lesbian Relationships Are Changing" refers to the "steamy pulp novels like the 'Beebo Brinker' series by cult writer Ann Bannon, which offered insight into the dynamics of relationships." TheAtlantic.com, July 3, 2013.
Ann is mentioned as one of the celebrity supporters of a new musical comedy "creative counter-protest" of the bigotry of the Westboro Baptist Church, in "Margaret Cho, Joan Rivers Pitch In To Produce Musical Comedy 'Shirley Phelps-Roper In Concert, Live From Hell,'" Queerty, July 2, 2013.
"50's Pulp Fiction Writer Gave Voice to Silenced Community" (pdf), in the Pride edition of Sacramento's OutWord, June 13, 2013.
Ann is quoted in "A Marriage Born Where Tables for 2 Women Were Common," New York Times, March 26, 2013—an article by David Dunlap about Edith Windsor's romance with Thea Spyer, and the mid-20th Century Greenwich Village where they fell in love. Windsor's successful case before the Supreme Court recently resulted in the overthrow of the "Defense of Marriage Act."
"Meet LGBT History Month Icon Ann Bannon," San Diego Gay and Lesbian News, October 3, 2012
"LGBT History Month Icon for Oct. 3: Ann Bannon, Author," Frontiers LA, October 3, 2012
Ann Bannon page on the LGBT History Month website, with information about the "31 Days, 31 Icons" feature.
"Beebo Brinker by Ann Bannon" review by The Cat, in The Rainbow Reader, December 19, 2011.
"Beebo Brinker and Lisbeth Salander": "…in the character of Lisbeth Salander, Larsson created a protagonist who was socially ostracised in a manner not unlike Beebo Brinker and Bannon's other characters." Article/analysis by Steve Powell in The Venetian Vase, October 16, 2011.
Reviews of Beebo Brinker Chronicles in Seattle:
"Beebo Brinker" by Jerry Kraft, SeattleActor.com, September 19, 2011.
"The Beebo Brinker Chronicles" by Fosse Jack, in The Scarlet Curtain, September 18, 2011.

"Beebo Brinker Hits the Town"—about the Beebo Brinker Pulp Cabaret and The Beebo Brinker Chronicles play debut in Seattle, in Seattle Gay News, September 7, 2011.
"The Return of Beebo Brinker" review of Jamaica Plain production of The Beebo Brinker Chronicles, by Emily Cataneo, Bay Windows, August 31, 2011.
The March 2011 issue of Curve magazine has a two-page interview, "Pulp Pioneer" by Merryn Johns, in which Ann Bannon reflects on writing lesbian fiction in the 1950s. Look for the article in the Reviews section, "In the Stacks" (pages 72–72).
The October 2010 Special 20th Anniversary Collector's Edition of Curve magazine offers "The First Annual Curve Lesbian Awards"—"Best Author/Pioneer" is a tie: Ann Bannon and Judy Grahn.
"Vixen Fiction," by Ann Bannon, in Our Big Gayborhood, November 3, 2010.
The June 2010 issue of Curve magazine lists Beebo Brinker in its illustrated feature, "Twenty Things Every Lesbian Should Own": "20. Beebo Brinker. Okay, you probably can't afford an original 1962 edition, but you should own one of the reprints to this classic lesbian pulp novel. You can even get it on your Kindle."
"Interview: Ann Bannon, Queen of Lesbian Pulp Fiction," by Lori Hahn, in Our Big Gayborhood, May 4, 2010.
"Queer Pioneers Course Begins" — Beth Greenfield interviews Kurt Brokaw about his course Queer Pioneers, featuring Ann and other "legendary lit heroes." In TimeOut New York magazine, April 8–14, 2010.
"Beebo's Significant Other," article and interview by Susan Caba in Stanford Magazine, the alumni magazine of Stanford University, March/April 2010
"Queen of Lesbian Pulp Fiction," article and interview by Richard Dodds in Bay Area Reporter, March 2010
"Interview with Ann Bannon," interview by Jennifer Worley in The Queerist blog, February 26, 2010
"Ann Bannon's Butch Beebo Brinker Swaggers onto San Francisco Stage," article by Katharine Holland in San Francisco Bay Times, February 26, 2010
"Beebo Brinker and the Lesbian Pulps," article and interview by Anthony Chase in Artvoice magazine, week of February 11, 2010
"Remembering Anyda Marchant," in The Latecomer, 35th Anniversary Edition, essays by Ann Bannon and others, edited by Fay Jacobs, A&M Books, May 2009
"Ann Bannon: Queen of Lesbian Pulp Fiction," interview and article by John Harrison on the blog Sin Street Sleaze, April 12, 2009
"Who the Heck is Ann Bannon? Only the Foremost Lesbian Pulp Fiction Writer," by Cheryl Craig. Curve Magazine, January-February 2009
"A Beacon in the Wilderness," by Carla Meyer, Sacramento Bee, Living Here, Books & Media, October 27, 2008
"An Interview with Lesbian Pulp Author Ann Bannon, The Queen of Lesbian Pulp Fiction," by Kathy Belge, About.com: Lesbian Life, October 6, 2008
"From the Ban to the Booker [Prize]: Development of the Lesbian Novel," interview for BBC Radio 4 with Val McDermid; broadcast August 2008
"A Literature of Our Own," by Julie Bindel, The Manchester Guardian, August 8, 2008
"O Pioneers! Catching up with Those Who Made a Difference," by Kevin Howell, Publishers Weekly/Publishers Group West, May 5, 2008
"Ann Bannon: The Undisputed Queen of Lesbian Pulp Fiction," by Naomi Young. Velvet Magazine, Issue 15, February 2008
"The Three Daring Divas of Paperback Pulp Fiction—Ann Bannon, Marijane Meaker, Joan Ellis," by Gary Lovisi. Blood 'N' Thunder: Adventure, Mystery, Melodrama, No. 19, Winter 2008
"K.I. Thompson, House of Clouds," Bold Strokes Books (2007); review by Ann Bannon. Lambda Book Report, Fall 2007
"BSB Insider Interviews Ann Bannon: Lesbian Pulp Fiction Queen," by Cheryl Craig. Bold Strokes Books Website Newsletter, Sept. 4, 2007
"Pulp Lesbico: el genero del deseo" interview and review by Thais Morales in Zero Magazine: La Primera Revista Gay en Espanol, the leading GLBT publication in Barcelona, Spain, September 2005
"Trashy & Tragic," an interview with Ann Bannon in a feature by Nicola Luksic accompanying a review of Lesbian Pulp Fiction: The Sexually Intrepid World of Lesbian Paperback Novels (by Katherine V. Forrest, Cleis Press, 2005) in Xtra, Toronto, August 4, 2005
"Author Receives Faculty Award," Sacramento State Hornet, weekly student publication; Nicholas Fricke; April 20, 2005
"Paperback Writer," by Kel Munger, Sacramento News and Review, April 7, 2005
"Books that Rocked our Beds: Review of Spring Fire by Vin Packer," (new edition, Cleis Press, May 2004), by Ann Bannon, in On Our Backs: Collector's Edition: Best of 20 Years, June-July, 2004
"The Lesbian Big Read: Authors' Favourites," by Carol Purcell, Diva Magazine (Scotland), April 2004
"Intervista a Ann Bannon," by Marisa Porello, Leggere Donna [Reading Woman] (Italy), March-April 2004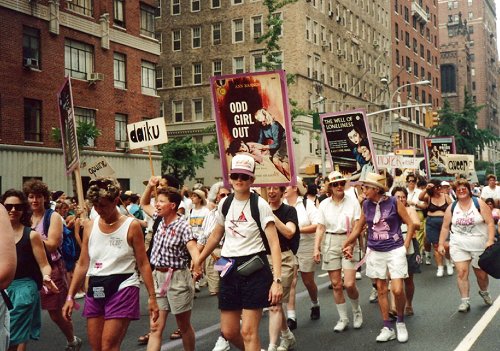 "Pulp Flittchen" interview by Michael Prenner, Our Munich magazine (German), February 2004
"Odd Girls Back In," interview by RJ Grubb for Bay Windows Boston GLBT weekly, December 25, 2003
"Nei romanzi pop il lesbismo anni cinquante," by Rosanna Fiochetto, L'Unita Online (Italy), November 20, 2003
"Laura e Beebo nel Village — Dalla parte di Eva," by Marissa Porello, Leggere Donna [Reading Woman] (Italy), September-October 2003
"Wine and Winter" Ann Bannon Interviews Marijane Meaker on her relationship with Patricia Highsmith, Lambda Book Report, August/September 2003
"Sleaze, Trash, and Miracles: How Ann Bannon Changed Lesbian Fiction by Writing About the Butch of her Dreams" interview by Joy Parks for Velvet Park anniversary issue, Fall 2003
"Lesbian and Gay Books Undergoing Changes," by Angela Geralds, The Dallas Voice, June 6, 2003
"On Writing Lesbian Pulp Fiction: An Interview With Ann Bannon," by Gary Lovisi; "Ann Bannon: A 1950s Icon Rediscovered," by Kate Brandt; "Ann Bannon's Cleis Press Reprints"; and "Ann Bannon in Paperback," compiled by Gary Lovisi, Paperback Parade, Gary Lovisi, editor, No. 59, March 2003
"An Evening with Ann Bannon," by Jesse Monteagudo, The Weekly News of South Florida, February 6, 2003
"Ann Bannon Wows Crowd at Stonewall," Express Gay News, Fort Lauderdale, FL, January 27, 2003
"Ann Bannon: Godmother of Lesbian Pulp Novels," Express Gay News, Fort Lauderdale, FL, January 20, 2003
"Out of the Shadows: An Interview with Ann Bannon" by William Dean, January 08, 2003
"Beyond Beebo and the Odd Girl," interview by William Dean Click originally published online by The Erotica Readers and Writers Association, December 2002
"Strange Sisters," interview on seXtv, November 23, 2002
"Why Are We Gay? The History of a Small Adjective," Lambda Book Report, September 2002
"The Queen of Lesbian Pulp," interview by Diana Cage, On Our Backs, August/September 2002
"According To: The Story Behind the Classic Lesbian Pulp," in Curve Magazine, August 2002
"Steamy Gay Pulp Has Shown Staying Power," by Annie Nakao, San Francisco Chronicle, August 8, 2002
"Where Are They Now? The Lesbian Firsts," Curve Magazine, June 2002
"A True Original: Lesbian Pulp Fiction; Ann Bannon in Chicago," Interview with Jorjet Harper, in Windy City Times, March 27, 2002
"Acts of Individual Valor," interview by Katherine V. Forrest, in Lambda Book Report, Vol. 10, No. 7, February 2002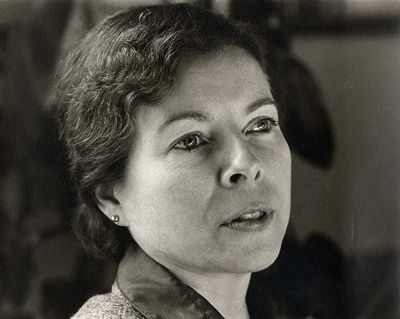 "Women's Writes: Books That Shaped Us," Lambda Book Report, January 2002
"A Book Trying to Show Human Warmth," by Waka Tsunoda, AP Weekly Features, October 2001
"Brand-New vs. Newly Rediscovered," by Rachel Pepper. Curve Magazine, October 2001
"Pulp Vixen: Shameless Tales of Wanton Dyke Lust are Finally Unveiled!" by Ronni Radner. Out Magazine, September 2001.
"Return of the Lurid Lesbians: A Steamy Re-Issue honors the 'Queen of Lesbian Pulp Fiction'," by Carol Anshaw. The Advocate, August 28, 2001
"A Classic Butch Bombshell," by Kevin Riordan, The Washington Blade, August 2001
"The Return of Lesbian Pulp," by Many Laughland, Seattle Gay Standard, June 25, 2001
Critiques & Biographical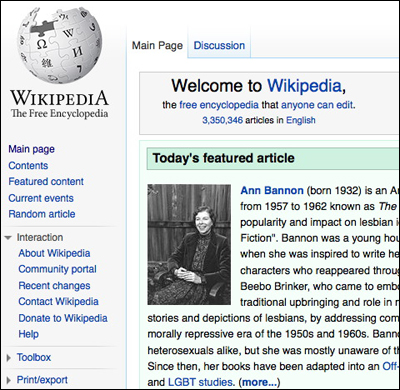 In-depth Wikipedia entry on Ann Bannon written by Pamela Morris was the day's featured article on Wikipedia July 15, 2010.
www.glbtq.com has an online biography of Ann Bannon, as well as numerous other authors, writers, poets, artists, and contributors to the community.
The Encyclopedia of Lesbian, Gay, Bisexual, and Transgender History in America, in three volumes; editor-in-chief, Mark Stein (Charles Scribner's Sons/Thompson-Gale, New York, 2004); Vol. 1, "Actors to Gyms," "Ann Bannon," entry written by Mary Elliott
"Gay Marriage and Pulp Fiction: Homonormativity, Disidentification, and Affect in Ann Bannon's Lesbian Novels," by Julian Carter, in GLQ: A Journal of Lesbian and Gay Studies (Duke University Press, 2009)
Twilight Tales: Ann Bannon's Lesbian Pulp Series "The Beebo Brinker Chronicles." Doctoral dissertation by Melissa Sky, Ph.D. (2010). VDM Verlag Dr. Muller Aktiengesellschaft & Co. KG, Saarbrucken, Germany.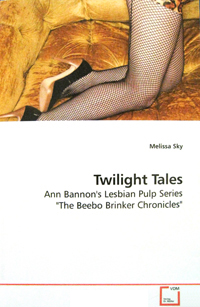 Interview and biographical sketch in Hip Pocket Sleaze, edited by John Harrison, Australia, Winter 2002/2003
Biographical sketch in Encyclopedia of Pulp Fiction Writers: The Essential Guide to More than 200 Pulp Pioneers and Mass-Market Masters, by Lee Server (Checkmark Books, New York, 2002)
The Gay & Lesbian Literary Heritage: A Reader's Companion to the Writers and Their Works, from Antiquity to the Present, edited by Claude J. Summers (Revised edition, Routledge, London & New York, 2002)
Leading the Parade: Conversations with American's Most Influential Lesbians and Gay Men, by Paul D. Cain (Scarecrow Press, Boston & Folkestone, England, 2002)
Foundlings: Lesbian and Gay Historical Emotion Before Stonewall, Chapter 4, "The Ambivalence of Lesbian Pulp Fiction," by Christopher Nealon (Duke University Press, Durham & London, 2001)
Becoming Visible: An Illustrated History of Lesbian and Gay Life in Twentieth-Century America, by Wasserman, McGarry, & Bowling (Penguin Books, New York & London, 1998)
Particular Voices: Portraits of Gay and Lesbian Writers, by Robert Giard (MIT Press, Cambridge, MA, 1997)
Happy Endings: Lesbian Writers Talk About Their Lives and Work, by Kate Brandt (Naiad Press, 1993)
Documentaries
"Forbidden Love: The Unashamed Stories of Lesbian Lives" — directed by Lynne Fernie and Aerlyn Weissman; produced by National Film Board of Canada (1992)
"Before Stonewall: The Making of a Gay and Lesbian Community" — directed by John Scagliotti, Greta Schiller, and Robert Rosenberg; produced by the Center for the Study of Filmed History (1984)